Receive up to $1,900* in rebates
Receive up to $1,900 in rebates* on the purchase of a complete Ultimate Comfort System!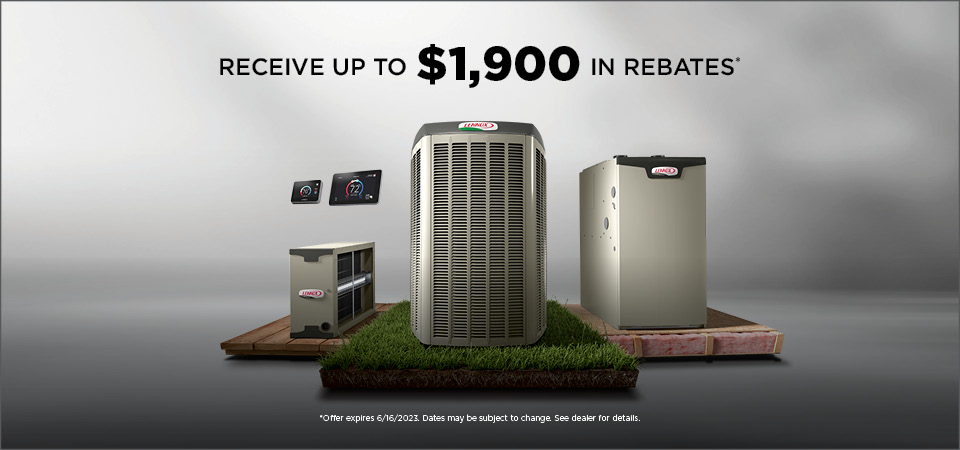 The perfect system should adapt to your life to deliver the ultimate in energy savings and precision temperature control. We agree. And that's why we're proud to be a leading provider of innovative, home heating and cooling systems. Our high-efficiency, Lennox® residential air conditioners, furnaces and HVAC systems help maximize comfort while reducing utility costs. Plus, our Lennox air filters, humidifiers and dehumidifiers help create healthier and cleaner indoor environments.
Call now and save with
RECEIVE UP TO $1,900 IN REBATES*
with the purchase of qualifying equipment!
START WITH UP TO $1,700 IN REBATES.*
Save on a complete qualifying Lennox® home comfort system that includes a gas furnace or blower coil, an air conditioner or heat pump and thermostat. Enjoy additional product rebates when you purchase an iComfort® S30 Smart thermostat, iHarmony® zoning and a PureAir system.
GET UP TO A $200 COMBINED REBATE ON A WI-FI THERMOSTAT, ZONING, and PUREAIRTM
Save now on the iComfort® S30 and save every month on utility bills. Anytime your routine or weather changes, the iComfort S30 smartly adapts to reduce your energy costs.
ZONING.*
Enhance your comfort and savings with iHarmony® zoning, a major advance in precision climate control.
PUREAIRTM.*
Enjoy more savings and fewer pollutants with a PureAirTM system, which cleans the air inside your home better than any other single system you can buy.
*Rebate requires purchase of qualifying items between March 13, 2023 to June 16, 2023 from a participating Lennox® dealer. Contact your local participating Lennox® dealer for promotion details. Qualifying items must be installed by June 23, 2023. This offer applies to residential installations only. Rebate claims must be submitted (with proof of purchase) to www.lennoxconsumerrebates.comno later than July 7, 2023 11:59:59 p.m. ET. Rebate is paid in the form of a Lennox Visa® Prepaid Card. Prepaid card is governed by the Cardholder Agreement, and some fees may apply. Please note that prepaid cards are subject to expiration, so pay close attention to the expiration date of the Card. Conditions apply. See www.lennox.com/terms-and-conditionsfor complete terms and conditions.